how to

Make a small kitchen look bigger
Choose lighter colors.
Lighter paint colors and wood finishes expand the perceived space of your kitchen.
Paint your walls the same shade as your cabinets to make the eye focus on the entire space, so your kitchen feels larger and lighter.
Pair with very light-colored countertops, and your kitchen will look spacious and airy.
But, don't feel limited to just one cabinet color.
If you choose a two-tone design, keep dark colors to the base cabinetry.
Keep the darker color in the lower 1/3 of the space and keep the upper 2/3 light and airy.
Use glass door panels.
Glass door panels on upper cabinets add visual depth and create an illusion of openness.
Both clear and opaque glass will reflect light and brighten your kitchen overall.
White or light woodwork maximizes the effect.
Streamline your hardware
Minimalist lower cabinets can help make your kitchen look roomier.
Avoid chunky, ornate hardware.
Some doors and drawers don't need any hardware at all.
get the look

shaker

The most popular cabinet style. Warm without being fussy. This look is all about simplicity and utility.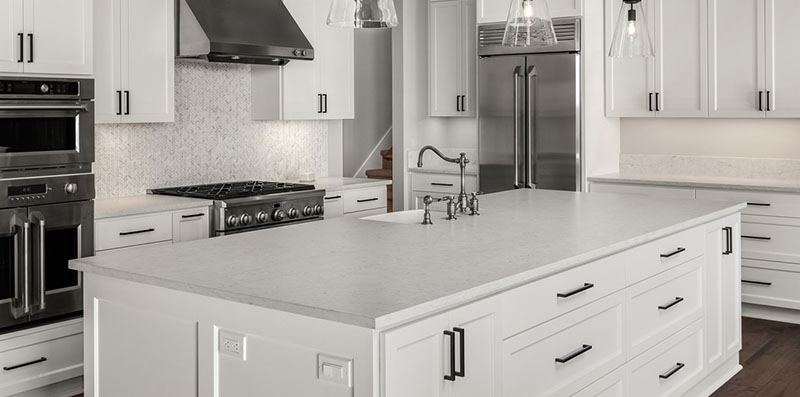 hardware Knobs and handles should enhance utility.
Metal hardware in black or nickel is timeless
Circular knobs or cupped pulls on both drawers and doors are popular choices
Glass or enamel can lend a vintage vibe
get the look

farmhouse shaker

Features a pared down color palette with white and natural woods. Often includes an apron sink and industrial lighting.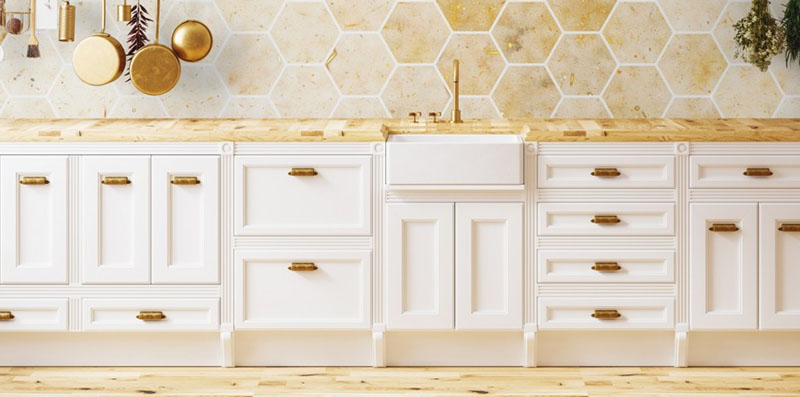 hardware Several options compliment the often light or white cabinets.
Dark hardware is an easy way to add character and contrast
Bronze hardware is another favorite
Larger handle bars and cup pulls can be combined for visual breakup
get the look

traditional

Doors and drawers with raised or recessed panels and decorative trim.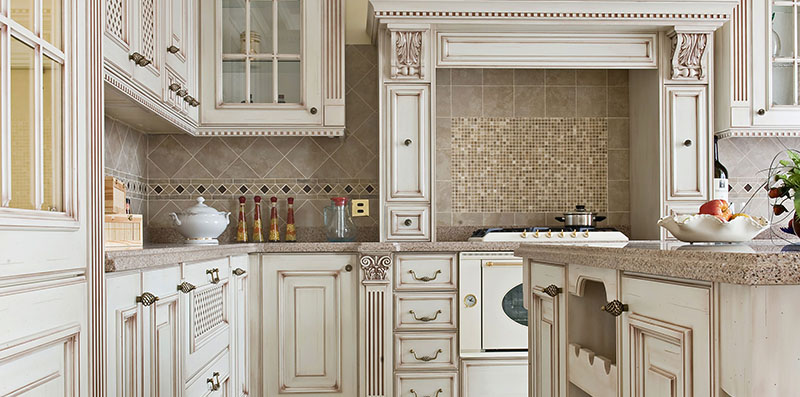 hardware Detailed pulls and knobs that harken back to the pre-20th century era.
Bronze, antique brass, pewter, enamel inset and black are all popular choices
get the look

modern

Sleek surfaces and streamlined details give your cabinets a clean, uncluttered look. Minimal style that takes cues from modern and contemporary design.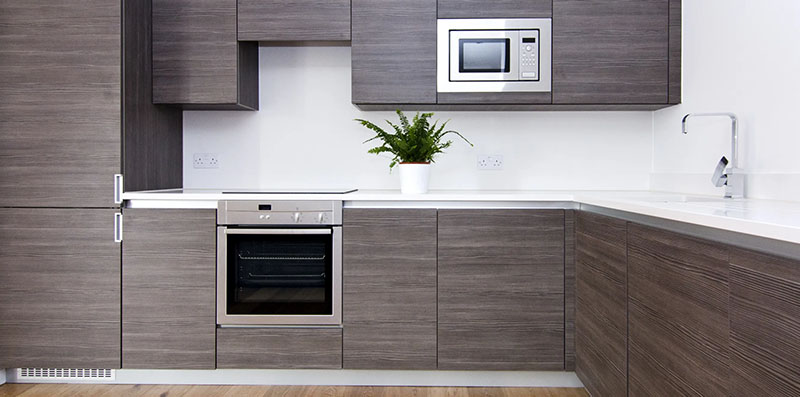 hardware Simple, unadorned knobs and pulls.
Brass is back in a big way
Brushed nickel or shiny chrome
Flat black is popular
No hardware at all in another minimalist trend
how to

Select hardware for your cabinets.
Knobs or pulls?
No set rules, it`s about preference.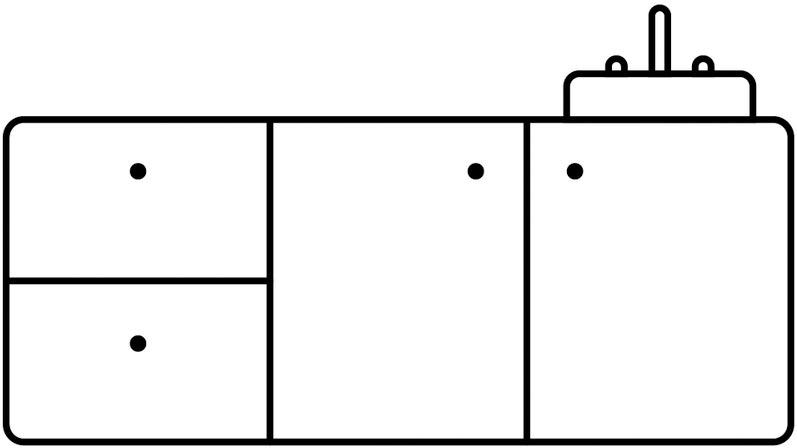 Knobs are generally less expensive and easier to work with from a design perspective, as they are less significant to the overall look of a cabinet.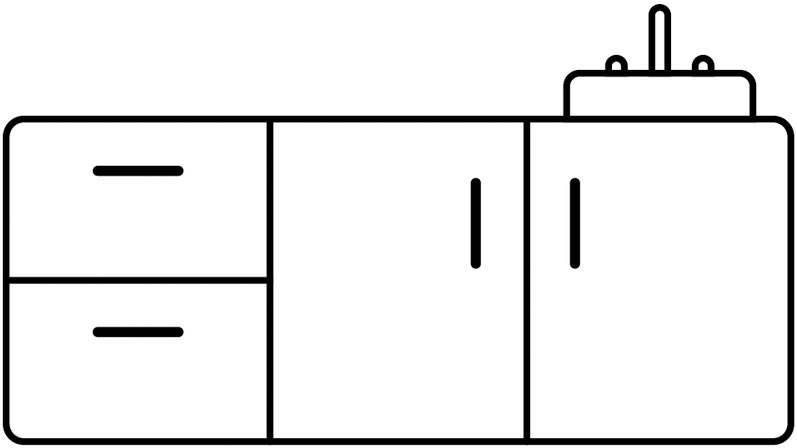 Pulls give a more updated, contemporary feel - long simple lines pair beatifully with modern cabinets.
What size?
Pull size
Personal style determines pull size. Long pulls (9"+) provide a contemporary look. Mid-length pulls (5-7") are more transitional or traditional.
Knob size
There`s more freedom with knob sizes. The style of the knob (as opposed to the size) helps define your style.
Rules of Thumb
Choose pull lengths about 1/3 of the cabinet or drawer width.
Drawers that are 12" or less typically work best with a pull that is 3" to 4" long or a knob that is 1" diameter.
Download these Kitchen Cabinet Hardware Guides PDF and Knobs and Pulls Cabinet Hardware Guides PDF for more help.
Mix or match?
You can mix pulls and knobs, but we don`t recommend mixing hardware styles or finishes (colors) within one room.
Choose one pull style (and size) and one knob style (and size). Knobs and pulls should complement each other.
We suggest using knobs (or pulls) on all drawers (or cabinets) or vice versa. Create a cohesive, consistent pattern.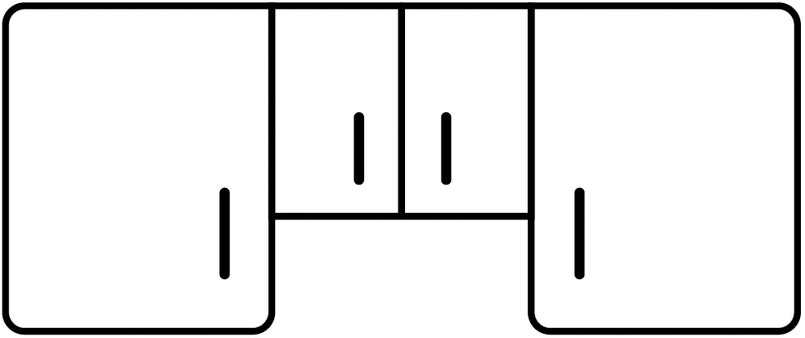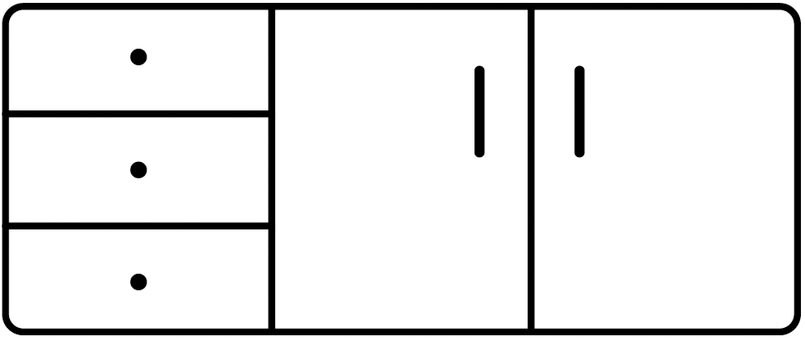 how to

Choose on-trend cabinet colors.

White is, by far, the most popular kitchen cabinet color. These shades are trending:

Simply White Benjamin Moore

White Dove Benjamin Moore

Chantilly Lace Benjamin Moore

Pure White Benjamin Moore

Decorator's White Benjamin Moore

Snowbound Sherwin Williams
Cool, gray-blues and warm gray or "greige" are the new neutrals.

Gray Screen Sherwin Williams

Nickel Benjamin Moore

Repose Gray Sherwin Williams

Smoke & Mirrors Benjamin Moore
Gray, greenish blues are gaining popularity.

Boothbay Gray Benjamin Moore

Sterling Benjamin Moore

Portsmouth Sherwin Williams

Mineral Deposit Sherwin Williams
Check out more in our color section.